Welcome to Lifetime Chiropractic of Rio Rancho, NM
Contact us today to set up an initial examination so we can tell you what's wrong, what treatments will fix the problem, how much treatment will cost and how long your treatment will take.
What can I expect at Lifetime Chiropractic?
Research shows that the best long-term chiropractic results are gained when a thorough exam precedes treatment. X-rays can uncover what damage you may have in your spine that you can't feel. Your case should be analyzed before your first adjustment so your treatment can be designed to correct your specific problem. This is what we do at Lifetime Chiropractic. You deserve personalized care to address your specific needs.
Your First Chiropractic Visit Includes…
Health History
A health resume will be completed for your first Chiropractic visit. Your Health Resume tells us about your current complaints, and your history of injuries or illnesses.
Consultations
We will review your health resume and take a further history of spinal impacts, including auto-accidents, work, recreational and sport injuries, along with the details of your current work and daily activities.
Clinical Examination
Your examination will include a center of gravity assessment, a thorough evaluation of posture, spinal palpation and range of motion. These tests will help determine if subluxations are affecting your health and function.
X-rays and Analysis
Your chiropractic examination may require x-rays. The x-rays reveal the degree of spinal misalignment, the phase of spinal degeneration, significant pathologies, and potential contraindications of care. In our clinic, careful analysis leads to precision measurements. These measurements along with your clinical exam findings enable us to provide you with individualized treatment and optimal adjustments.
Our Team
Our chiropractic team in Rio Rancho, NM is committed to helping as many people as possible achieve a healthy and pain free life through natural health care. We look forward to serving you! Call 505-891-3111
Contact Us
Dr. Kyle Gray
Dr. Gray is a graduate of both the University of Oklahoma and Logan College of Chiropractic. He was born and raised in Carlsbad, New Mexico and is very proud of that fact. His favorite part of being a chiropractor is getting to meet new people on a daily basis and help them on their journey to better health and happier lives. Outside of the office Dr. Gray enjoys playing board games with family and friends, going on walks with his wife and dog, and watching Oklahoma Sooner sports (boomer sooner!).
Anne Socha
Anne has been a LMT since 1998. She has developed her own style of massage using acupressure points and trigger points as part of her work. Her studies have been in Qigong therapy. She has been a Certified Qigong Therapist since 2000. She has attended Crystal Mt. Massage School. Her qigong training has been at the Rochester School of Qigong, Healing Tao Group headed by Michael Winn and Master Mantak Chia, the New Mexico School of Natural Healing, and Supreme Science Qigong Seminars. Anne is a certified Hypnotist since 2000 through the Hypnodyne Foundation and Dick Sutphen's workshops.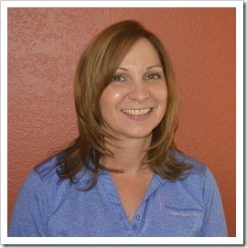 Kathy Nicholas
Kathy is the Accounts Manager for Lifetime Chiropractic. Kathy studied Accounting and graduated as class valedictorian at Arizona Computer Institute. She has been employed with Lifetime Chiropractic since 1997. "Lifetime Chiropractic is a wonderful place to work. I enjoy working in an environment where patient care comes first."
Fran Trujillo
Fran attended Phoenix Therapeutic Massage College in 2001. Where she studied Massage Therapy and Chiropractic Assisting, so she has over 10 year of experience.
"What I love about work here at Lifetimes is the great staff and doing all the different therapy's that we offer but my favorite is Ultrasound therapy because it is amazing how this therapy breaks up the lactic acid in the muscle tissue to help reduce pain and promote healing."